For the 20th anniversary of the death of Felix Draeseke (1933), Hermann Stephani – at the time head of musicology at the University of Marburg and president of the first Felix Draeseke Society - wrote an article in which the following appeared: "The grand course of development which emerges here is: With his unrestrained elemental powers he succeeded with incredible self-discipline in directing the life radiating expressive musical means of the New Germans (for whom he was at one time the "ultra-radical exponent") back to objective mastery and in balance with the supra-personal and ever valid merits and powers in the formal creation of pure musical architecture. Johannes Brahms also served this mission – but with few contemporaries was there an opposing force of elemental powers approaching the strength of that found in Felix Draeseke."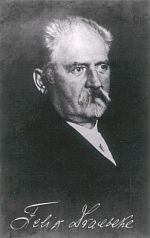 Felix Draeseke – "the most controversial phenomenon in recent music history" (Batka) – was born in Coburg on October 7, 1835 His forebears were Lutheran clergy on both his mother's and his father's side. In the post-Schumann period of the Leipzig Conservatory (tutelage under Julius Rietz, among others), the music of Richard Wagner was the direction for Felix Draeseke as it was for many of his contemporaries. He found connections with the so-called New Germans of the Liszt circle in Weimar. Draeseke's first musical creations were extremely radical. After Liszt's departure from Weimar (1861) the situation became as difficult for his followers as it had been for himself. In self-imposed exile for 12 years in Switzerland Draeseke managed to make that transformation, which would enable him to unite the expressive means of the New Germans with the strict forms of the "old masters" in a highly personal style.
Draeseke's path as an artist was a continual battle for recognition. The professor for composition and music history at the Dresden Conservatory who was respected by all his students did not find this adulation echoed by the musical public with his works, as was the case with his luckier contemporary Brahms. Draeseke's severe hearing problems hindered him in executing the practical side of a musician as conductor or pianist and he was therefore unable to work in making his compositions better known. As a 77 year old he was to experience a late triumph: in 1912 there were two successive complete performances of the four-part "Christus" Mysterium (prologue and three oratorios) in Berlin and Dresden under Bruno Kittel. This singular work, the only dramatic representation of the "Life, Work and Death of Our Savior on Earth". was not to receive two further complete performances until 1990 and 1991 under the direction of Udo-R. Follert and Hermann Rau respectively. The high esteem for this monumental work motivated the University of Berlin to grant the elderly master an honorary doctorate. Not long thereafter Felix Draeseke died on February 26, 1913. The outbreak of World War 1 put a halt to the dissemination of his works which had begun in public concerts. Music history found different paths. Even considerations of guarded appreciation and value judgment of Draeseke's work were completely lost by the enormous upheaval in cultural and social matters which resulted from the World War. It was only in the 80's and 90's of the 20th century that a gradual growth of interest for "unrecognized" music of the 19th century began – and Felix Draeseke may well be recognized (among others) as its outstanding representative. The International Draeseke Society situated in Coburg, Germany was founded in 1986 and concerns itself with the research of the Felix Draeseke's life and works. The output of the master encompasses every category of music and in every case he composed at least one work of overwhelming importance. His church music with its motets, two masses, two requiems, cantatas, psalms and the aforementioned mysterium along with opera and symphonic music occupies the largest realm.
In his chamber music (and just about all of Draeseke's works in this category have appeared by Verlag Walter Wollenweber, Munich) Draeseke created sonatas for solo instruments and piano, three string quartets as well as three quintets, of which two were composed for quite exceptional and seldom encountered ensembles, e.g. his Opus 48 for horn, string trio and piano. His Quintet in A major (WoO 25) for Stelzner instruments was written by Draeseke within three weeks at the beginning of 1897. It was his first attempt at writing a string quintet. Why Draeseke became interested in these instruments is not really clear, although it just may be that because of the competition sponsored by the Dresden Conservatory in May 1896 which wanted to promote Stelzner's instruments and make them better known, Draeseke's attention was drawn to them, above all to the Violotta. Draeseke himself did not take part in the competition, thought it is reasonable to think that he played a part in the awarding of the prize, one shared by composers Arnold Krug and Eduard Behm and whose worthwhile sextets were premiered. The large numbered of quartets which were submitted found otherwise little notice. The two composers here mentioned also took care to call attention to the Cellone developed by Stelzner along with the innovative Violotta.
The instruments cited here are all new creations of the German inventor Dr. Alfred Stelzner (1852-1906), who grew up in Hamburg, played violin and piano and earned his doctorate in mathematics and physics at the University of Heidelberg. He joined his love for music with his scientific work in acoustics. His ambition was to better the timbre of the traditional string family members, whereby he devised different basic forms. He also invented two further string instruments, the violotta which is played held and bridges the octave beneath the violin between viola and cello. It is a decidedly beautiful instrument in design and sound, and around 1900 was used by a number of composers. The other newly designed instrument is the cellone, an octave below the violotta, between cello and double-bass. Stelzner developed these instruments and then had them made by commission. Violin makers like Richard Wiedeman and Augustus Paulus realized the plans.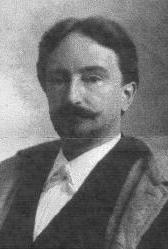 Stelzner's instruments were much appreciated by many a famous musician of the day, and so words of praise about the timbral qualities of these instruments are to be found from the likes of Joseph Joachim, Eugene Ysaye, August Wilhelmj and David Popper. Had he been able to live longer, these instruments would no doubt have been more accepted. With his tragic death (Stelzner committed suicide, probably as a result of the failure of his business) they did not catch on and were soon forgotten. Works which were written for Stelzner instruments are little known, but some of them are especially lovely examples for post-Romanticism in Germany. At any rate, they deserve to be performed.
Felix Draeseke was much enthused about the sound of the violotta and created in his quintet for two violin, viola, violotta and cello a magnificent musical composition. The quintet was first performed in Dresden in 1897 and was evidently well received. Thereafter there were few performances, since there was a shortage of both violottas and violotta players. It is therefore that we note in the documented performances which followed, that the violotta part is taken by a second cello. Not a completely satisfying substitute if one is permitted acquaintance with the original sound of a violotta!
There could be another reason for this, for the inclusion of a violotta presents some knotty considerations. It has already been mentioned that the violotta is held by the hand and one may assume that violists are likely to turn to the violotta. Regarding this however, Draeseke has provided a not inconsiderable hurdle, inasmuch as he notated the violotta with the tenor clef throughout, with which violists would have to first contend, since they play in the alto clef "by nature of the beast". In considering this unusual circumstance the decision was made to accommodate those violists who would like to take on the violotta (for there are a number of originals which have survived!) and have provided an alternative viola part with alto clef in this initial printing
The first movement of the quintet (4/4, A major, Quite measured in stride; with fire) begins with a melodically expressive main theme, which is presented by the violotta, the penetratingly romantic sound of which is accompanied by softly pulsating eighth notes, and shimmering background in the higher registers. The first violin repeats the theme. A dark hued transition prepares the entrance of the secondary theme, which is delivered in minor mode by quietly swinging triplets. The movement gains a sweeping impetus with the appearance of the madly dashing third theme. The viola takes up the theme and the violins carry it onward. The development section begins as the cello presents the main theme again. The raciness of the third theme almost immediately takes over the proceedings, before the second theme returns and spreads a sense of melancholy. The transition to the reprise is provided by the extremes of the ensemble and, using the violotta, the composer quietly directs the music to a final, arresting crescendo. This is created in a compelling and fiery manner with the rhythmically forward striving third theme.
Draeseke's marked sense for broad and songful melody finds its loveliest expression in the many slow movements of his works. In doing he envelopes his grand mastery in the most sumptuous harmonic thought. The main theme of the second movement (3/8, F major, Gently moving. Measured) radiates an agreeably serious atmosphere, for which the violotta, with its quite individual tone color, demonstrates itself as perhaps the ideal exponent. Surrounded and accompanied by motives in the other instruments, the noble main theme is taken up and developed by the first violin. Various ideas are presented in an almost rondo-like manner and brought together in masterly contrapuntal fashion.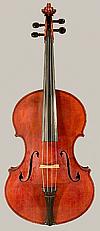 Draeseke's humor, at times almost biting in expression, lurks in the background and is revealed now in the third movement of his string quintet (2/4, A minor, Moving quickly and lightly); Trio (6/8, G major, Approximately the same tempo, grazioso) which in its prevailing 2/4 measure flies by easily and quickly. The genial design is characterized by an inimitable gracefulness revealing delightful humor and high spirits, and it begins with a pizzicato introduction before the main theme emerges from a wave of 16th notes. A separate idea is announced by the viola for the trio, which is developed in the other instruments and where the violotta emerges as especially noteworthy. An arresting "trumpeter effect" is provided by the viola and this leads to the repetition of the scherzo proper and which, after an effective general pause, it signals a final ensemble.
Draeseke also gives the finale (2/4. A major, Fresh and lively) a joyous scherzo-like character. The main theme sets itself up in proud immediacy and wanders through distant tonalities, where it is worked over in strong contrapuntal development. The violotta presents a secondary theme which is reminiscent of a motive from the opera "Bertran de Born", and which is taken up with brilliant elaboration. The main theme is then contrapuntally handled and given fugal treatment, as is the second theme, in playful manner but with similar technique. Cascading triplets drive the movement toward its climax, though not before the violotta quotes the lyrical theme of the slow movement with almost reverential reminiscence, and then, typical for Draeseke conclusions, the finale is driven to an abrupt ending.
The publishing house of Walter Wollenweber, Munich-Graefling has, in its series UNKNOWN WORKS OF THE CLASSIC AND ROMANTIC ERAS, many times demonstrated its engagement on behalf of works by Felix Draeseke. Most recently there appeared a volume containing his complete works for cello and piano, issued in conjunction with the Internationale Draeseke Gesellschaft. With this first printed edition of the Quintet in A major, WoO 25, presented here there is also expressed a hope for broad interest in the totally unique chamber music of Felix Draeseke as well as for the total output of a composer in general, who in proximity to Richard Wagner and Franz Liszt demonstrated his own individuality many times over. Hans von Bülow, Draeseke's friend since early manhood, and speaking from different context, came up with an observation that can certainly be repeated here: "… everything that this composer has brought before the general public has been fashioned to attract the appreciation and respect of the educated. He has every right to be treated without reservation to the respect considered proper for a true master. Where this is denied him, one may discern a void in knowledge of music literature, and it would be time to do something about it. This composer has debuted with works which reveal such maturity of spirit, such a so seldom encountered fund of knowledge and ability, that lack of acquaintance with him can only be forgiven a dilettante!"
The "Stelzner" Quintet was recorded along with Draeseke's String Quintet in F major, Op. 77 by the ACANTUS STRING QUARTET, MAGDEBURG with 2ND CELLO in 2001 and are the premiere recordings of both works (AK/Coburg, DR 0004, produced by the International Draeseke Society/ North America, distributed www.draeseke.org/akcoburg). In preparation from the same source is a further recording of the "Stelzner" Quintet which invites exciting comparison of a version with original Stelzner instruments and one with traditional ensemble; this noteworthy recording has been undertaken by the Summit Chamber Players of the University of Wyoming, USA.
The editor of this publication, in the name of the Internationale Draeseke Gesellschaft Coburg e. V., owes extraordinary thanks above all to the Niederfüllbacher Stiftung for its financial support of this work, as well as to the Music Manuscript Division of the Saxon State and University Library, Dresden which provided a microfilm for the manuscripts of the score and parts of the quintet (Catalog Numbers Mus. 7099-P-500/ 7099-P-501), the ultimate sources on which this first edition is based, and which is now set before the musical public.
Udo-Rainer Follert
translated by
Alan H. Krueck
May, 2005
---
Vorwort zum Erstdruck des Quintett in A-Dur für zwei Violinen, Viola, Violotta und Violoncello, WoO 25 (1897)
von Felix Draeseke (1835-1913)
Zum 20. Todestag von Felix Draeseke (1933) schrieb Hermann Stephani – ehemals Ordinarius für Musikwissenschaft an der Universität Marburg und Präsident der ersten Felix Draeseke Gesellschaft - in einem Artikel folgendes: "Als die große Linie zeichnet sich diese ab: Es gelang seiner ungebrochenen Urkraft, die leben - glühende Ausdrucksmusik der Neudeutschen (deren "ultraradikaler Exponent" er einmal gewesen ist) in unerhörter Selbstbe-zwingung zu beherrschter Objektivität zurückzuführen und ins Gleichgewicht zu bringen mit den überpersönlich und überzeitlich gültigen Werten und Gestaltungskräften reiner Musikarchitektur. Dieser Sendung diente auch Johannes Brahms. Aber bei wenigen Zeit-genossen erwuchs sie einer auch nur annähernd so starken Gegenspannung der Grund-kräfte wie bei Felix Draeseke."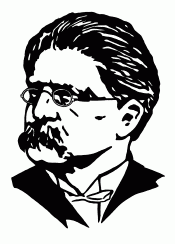 Felix Draeseke - "die umstrittenste Erscheinung der neueren Musikgeschichte" (Batka) - wurde am 7. Oktober 1835 in Coburg geboren. Die Vorfahren waren von Mutter- und Vater-seite her evangelische Geistliche. Am Leipziger Konservatorium der nachschumannschen Zeit u.a. von Rietz ausgebildet, war auch für den jungen Draeseke wie für viele seiner Zeitgenos-sen Wagners Musik wegweisend. Er fand Anschluss bei den sog. "Neudeutschen" des Wei-marer Kreises um Franz Liszt. Draesekes kompositorische Erstlingswerke waren äußerst ra-dikal. So wurde nach Liszts Abschied von Weimar (1861) auch für seine Anhänger die Situa-tion sehr schwer. Im selbsterwählten, zwölfjährigen Exil in der Schweiz machte Draeseke jene Wandlung durch, die ihn dazu befähigen sollte, die Ausdrucksmittel der "Neudeutschen" und die strengen Formen der "alten Meister" zu einem höchst persönlichen Stil zu vereinen.
Draesekes Weg als Künstler war ein fortwährender Kampf um Anerkennung. Der von allen seinen Schülern am Dresdener Konservatorium geachtete Professor für Komposition und Musikgeschichte fand mit seinen Werken nicht das Echo in der musikalischen Öffentlichkeit, wie es dem in dieser Hinsicht glücklicheren Zeitgenossen Brahms beschieden war. Draesekes schweres Gehörleiden hinderte ihn an der Ausübung des praktischen Musikerberufes als Dirigent und Pianist, und so konnte er nicht selbst für die Verbreitung seiner Werke eintreten. Der 77jährige erlebte einen späten Triumph: Im Jahre 1912 erfolgten die beiden ersten Gesamtaufführungen seines vierteiligen "Christus"-Mysteriums in einem Vorspiel und drei Oratorien unter der Leitung von Bruno Kittel in Berlin und Dresden. Diese in der Musikgeschichte einzig dastehende dramatische Darstellung von "Leben, Wirken und Sterben unseres Heilandes auf dieser Erde" erlebte erst 1990 und 1991 zwei weitere Gesamtaufführungen unter der Leitung von Udo-R. Follert und Hermann Rau. Der hohe Wert dieses Monumentalwerkes bewog die Berliner Universität, dem greisen Meister die Ehrendoktor-Würde zu verleihen. Bald darauf, am 26. Februar 1913, starb Felix Draeseke in Dresden. Die einsetzende Verbreitung seiner Werke in öffentlichen Konzerten erlahmte mit Ausbruch des 1. Weltkrieges. Die Entwicklung der Musikgeschichte ging andere Wege. Auch waren die Maßstäbe für eine angemessene Beurteilung und Bewertung von Draesekes Werk bzw. Stellung infolge der enormen kulturellen und sozialen Umwälzung nach der Katastrophe des Weltkrieges völlig verloren gegangen. Erst in den 80iger Jahren des 20. Jahrhunderts wuchs allmählich das Interesse an der "unerkannten" Musik des 19. Jahrhunderts, als deren hervorragender Vertreter Felix Draeseke u.a. sehr wohl gelten darf. Die 1986 gegründete Internationale Draeseke - Gesellschaft mit Sitz in Coburg bemüht sich um die Erforschung von Leben und Werk Felix Draesekes. Des Meisters kompositorisches Schaffen umfasst alle Gattungen der Musik, und überall schuf er mindestens ein Werk von überragender Bedeutung. Die geistliche Musik nimmt mit Motetten, zwei Messen, zwei Requiems, Kantaten, Psalmen und dem erwähnten Mysterium neben Oper und Sinfonik den breitesten Raum ein.
In der Kammermusik (fast alle Draeseke-Werke dieser Gattung sind im Verlag Walter Wollenweber, München, erschienen) schuf Draeseke Sonaten für Solo-Instrumente und Kla-vier, drei Streichquartette sowie drei Quintette, wobei zwei für durchaus besondere und seltene Besetzungen komponiert wurden, so z.B. sein Opus 48 für Streichtrio, Horn und Kla-vier. Sein Quintett in A-Dur (WoO 25) für die Stelzner-Instrumente schrieb Felix Draeseke Anfang 1897 innerhalb von drei Wochen. Es war sein erster Versuch in der Gattung Streichquintett. Warum sich Draeseke für diese Instrumente interessierte, ist nicht ganz klar, jedoch mag es aber sein, dass er durch ein Preisausschreiben des Dresdener Konservatoriums vom Mai 1896, welches Stelzners neue Instrumente fördern und bekannt machen wollte, auf diese Instrumente, und dabei vor allem auf die Violotta aufmerksam wurde. An dem Wettbewerb selbst hatte sich Draeseke nicht beteiligt. Es ist aber denkbar, dass er bei der Preisverleihung eine Rolle spielte, denn es wurden zwei beachtenswerte Sextette prämiert, und die Komponisten waren Arnold Krug und Eduard Behm. Die große Zahl der eingereichten Quartette fand ansonsten wenig Beachtung. Die beiden genannten Komponisten berücksichtigten neben der neuartigen Violotta auch das von Stelzner entwickelte Cellone.
Die erwähnten Instrumente sind allesamt Neuschöpfungen des deutschen Erfinders Dr. Alfred Stelzner (1852-1906), der in Hamburg aufwuchs, Geige und Klavier und studierte und an der Universität Heidelberg in Mathematik und Physik promovierte. Die Liebe zur Musik verband er mit seinen wissenschaftlichen Arbeiten in Akustik. Stelzner war bestrebt, die traditionellen Formen der Geigenfamilie klanglich zu verbessern, indem er eine andere Grundform wählte. Er erfand auch zwei weitere Streichinstrumente: Die Violotta, eine Oktave unter der Geige zwischen Bratsche und Cello, wird als Armgeige gespielt. Sie ist ein ausgesprochen schönes Instrument im Bau und Klang und wurde um 1900 von mehreren Komponisten benutzt. Das andere neu erfundene Instrument ist das Cellone, eine Oktave unter der Violotta, zwischen Cello und Kontrabass. Stelzner entwickelte diese Instrumente und gab sie dann in Auftrag. Geigenbauer wie Richard Wiedeman und Augustus Paulus führten seine Pläne aus.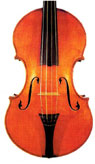 Stelzners Instrumente wurden von mehreren berühmten Musikern bewundert, so äußerten sich namhafte Musiker wie Joseph Joachim, Eugene Ysaye, August Wilhemj und David Popper sehr lobend über die Klangqualitäten dieser Streichinstrumente. Hätte er länger le-ben können, so wären diese Instrumente sicher mehr gefördert worden. Durch seinen tragischen Tod (Stelzner beging Selbstmord, wohl infolge seines wirtschaftlichen Ruins ) wurden sie bald vergessen und konnten sich nicht durchsetzen. Die Werke, die für die Stelzner-Instrumente geschrieben wurden, sind wenig bekannt. Manche davon sind aber besonders schöne Beispiele für den spätromantischen Stil in Deutschland. Jedenfalls sind sie es wert, aufgeführt zu werden.
Felix Draeseke war also vom Klang der Violotta so begeistert und schuf mit seinem Streich-quintett für zweiViolinen, Viola, Violotta und Violoncello ein großartiges Stück Musik. Das Quintett wurde 1897 in Dresden uraufgeführt und wohl auch sehr gut aufgenommen. Dennoch gab es nur wenige Aufführungen, da es sowohl an Violottas als auch Violotta-Spielern man-gelte. Daher wurde bei den meisten bekannt gewordenen Nachfolge-Aufführungen die Violotta-Stimme von einem Violoncello übernommen. Keine ganz befriedigende Lösung, wenn man erst einmal den Originalklang der Violotta kennen lernen durfte.
Es könnte allerdings noch einen anderen Grund dafür geben, dass der Einsatz der echten Violotta auf nicht geringe Schwierigkeiten stößt. Es war ja schon erwähnt worden, dass es sich bei diesem Instrument um eine Armgeige handelt, und man darf annehmen, dass eher Bratschisten sich auf die Violotta einlassen. Denen allerdings hat nun Draeseke eine nicht gerade leicht zu nehmende Hürde vorgesetzt, indem er nämlich die Violottastimme durchgehend im Tenorschlüssel notiert hat, worauf sich Bratschisten erst einmal einlassen müssten, spielen sie doch "von Natur her" aus dem Altschlüssel. Bei der Diskussion dieser gewiss besonderen Sachlage reifte der Entschluss, bei diesem Erstdruck denjenigen Bratschisten entgegen-zukommen, die sich auf die Violotta einlassen wollen (denn immerhin sind ja einige Originale erhalten geblieben!) und eine Zusatzstimme im Altschlüssel als echte Violottastimme bei-zugeben.
Der erste Satz des Quintetts (4/4, A-Dur. Sehr mäßig bewegt; mit Feuer) beginnt mit einem melodisch ausdrucksvollen Hauptthema, das von der Violotta vorgetragen wird, deren romantisch eindringlicher Klang, von leisen Achteln getragen begleitet, ihm in höheren Lagen einen schimmernden Hintergrund verleiht. Die erste Violine wiederholt das Thema. Eine dunkel verhaltene Überleitung bereitet den eintritt des zweiten Themas vor, das mit ruhig schwingenden Triolen in den Mollbereich gewendet wird. Durch den Einsatz des dritten Themas mit seinem rasanten Schwung gewinnt der Satz eine mitreißende Wirkung. Die Viola trägt das Thema vor, und die Violinen tragen es weiter. Der Durchführungsteil beginnt mit dem Violoncello, das den Hauptgedanken weiter trägt. Alsbald aber beherrscht das rasante dritte Thema das Geschehen in dramatischer Weise, bevor sich mit der Wiederkehr des zweiten Themas Melancholie verbreitet. Die Überleitung in die Reprise wird von den Außenstimmen vorbereitet, und mit der Violotta, die das Hauptthema in As-Dur vorträgt, erreicht der Komponist die Ruhe vor einer packenden Schlußsteigerung. Diese besorgt nun das rhythmisch vorwärts strebende dritte Thema in feurig mitreißender Art und Weise.
Draesekes ausgeprägter Sinn für weite und sangliche Melodik findet seinen schönszen Niederschlag in vielen langsamen Sätzen seiner Werke. Dabei entfaltet er seine große Mei-sterschaft in schönsten Harmonien. Das Hauptthema des zweiten Satzes (3/8, F-Dur. Sanft bewegt, getragen) verströmt eine freundlich ernste Stimmung, wofür die Violotta mit ihrer ganz eigentümlichen Klangfarbe das wohl sehr geeignete Instrument darstellt. Motivisch von den anderen Instrumenten begleitet und umspielt, wird das edle Hauptthema von der ersten Violine übernommen und fortgeführt. In rondoartiger Weise werden verschiedenen Gedanken vorgetragen und kontrapunktisch kunstvoll miteinander verwoben.
Draesekes hintergründiger durchaus auch manchmal bärbeißiger Humor offenbart sich einmal mehr im dritten Satz seines Streichquintetts (2/4, a-moll. Rasch und leicht bewegt); Trio – 6/8, G-Dur. Ungefähr dasselbe Tempo, grazisos), das im geraden 2/4-Takt rasch und leicht dahinfliegt. Übermut. Köstlicher Humor und eine unnachahmliche Anmut kennzeichnen diesen genialen Wurf, der mit einer Pizzikato-Einleitung beginnt, bevor aus einem rollenden 16tel Motiv sich das Hauptthema herausschält. Im Trio stellt die Viola einen weiteren Gedan-ken vor, der in den anderen Stimmen weitergeführt wird, insbesondere wird hierbei wieder die Violotta ins Spiel gebracht. Ein von der Viola hervorzubringender besonderer "Trompeten-Effekt" leitet die Wiederholung des Scherzos ein, und er gibt auch nach einer effektvollen Ge-neralpause das Signal für die Schlußgruppe.
Draeseke gibt auch dem Finale (2/4, A-Dur. Frisch und keck.) einen freudigen, scherzando-artigen Charakter. Stolz richtet sich zunächst das Hauptthema auf und wandert durch entfern-te Tonarten, wobei es kontrapunktisch dicht verarbeitet wird. Die Violotta führt ein Seiten-thema ein, welches an ein Motiv aus der Oper "Betran de Born" erinnert und in glanzvoller Steigerung fortgeführt und entwickelt wird. Dann wird das Hauptthema kontrapunktisch durchgeführt, fugiert, und auch an dem zweiten Thema werden diese satztechnischen Künste spielerisch angewandt. In rasenden Triolen treibt der Satz seinem Höhepunkt entgegen, aber erst nach einem von der Violotta vorgetragenen Zitat des gesanglichen Themas aus dem langsamen Satz, welches wie ein dankbarer Rückblick wirkt und für Draesekes Schlüsse typisch ist, jagt das Finale seinem abrupten Ende zu.
Der Verlag Walter Wollenweber, München-Gräfelfing, hat in seiner Reihe UNBEKANNTE WERKE DER KLASSIK UND ROMANTIK schon vielfach sein Engagement auch für Werke von Felix Draeseke unter Beweis gestellt. Zuletzt erschien 1999 in Zusammenarbeit mit der Internationalen Draeseke-Gesellschaft e. V. Coburg der Band mit den Werken für Violoncello und Klavier. Auch an den hier vorgelegten Erstdruck des Streichquintetts A-Dur WoO 25, des "Stelzner-Quintetts", knüpft sich die Hoffnung auf ein breites Interesse an der ganz und gar eigenständigen Kammermusik Felix Draesekes ebenso wie der in bewusster Absicht erfolgte Hinweis auf das Gesamtwerk eines Komponisten, der im Umfeld von Richard Wagner und Franz Liszt seine Eigenständigkeit vielfach bewiesen hat. Draesekes Jugend-freund Hans von Bülow hat in einem anderen Zusammenhang ein Wort geprägt, das hier wiederholt werden darf: "... alles, was dieser Komponist bisher der Öffentlichkeit übergeben hat, ist nur geeignet gewesen, ihm die Hochachtung und die Sympathie der Gebildeten zu er-werben. Er hat vollen Anspruch darauf, von vornherein mit dem einem Meister geziemenden Respekt behandelt zu werden. Wo ihm dieser versagt wird, ist eine Lücke in der Kenntnis der Musikliteratur anzunehmen und der Rat, selbige baldigst auszufüllen, am Platze. Der Komponist hat mit Arbeiten debütiert, die eine solche Reife des Geistes, einen so seltenen Fonds von Wissen und Können offenbaren, dass die Unbekanntschaft mit demselben nur einem Dilettanten zu verzeihen ist!"
Das "Stelzner-Quintett" wurde zusammen mit dem Streichquintett Opus 77 in F-Dur vom ACANTUS STREICHQUARTETT – Magdeburg auf CD eingespielt und ist 2001 als Erstein-spielung beider Werke erschienen. (AK Coburg, C & P 2001 Alan Krueck, USA; www.draeseke.org/akcoburg) In Vorbereitung befindet sich eine weitere Einspielung des "Stelzner-Quintetts" als durchaus spannende Gegenüberstellung der Fassungen auf Original-Instrumenten von Stelzner und auf traditionellen Streichinstrumenten, welche bemerkenswerte Einspielung von den Künstlern der Summit Chamber Players von der University of Wyoming, USA sich vorgenommen haben.
Vorzüglichen Dank für das Zustandekommen dieser Edition schuldet der Herausgeber im Namen der Internationalen Draeseke - Gesellschaft Coburg e.V. in erster Linie der Nieder-füllbacher Stiftung für die finanzielle Unterstützung der Arbeit, sodann aber auch der Musik-abteilung der Sächsischen Landesbibliothek Dresden, die einen Mikrofilm der Handschriften von Partitur und Stimmen des Quintetts zur Verfügung stellte, auf welcher sicheren Quelle diese Erst-Edition der musikalischen Öffentlichkeit nunmehr vorgelegt wird.
Speyer, im Mai 2005
Udo-Rainer Follert
(English version)