AK/Coburg is a project of the International Draeseke Society/NA and is devoted to bringing the music of Felix Draeseke, Joachim Raff, and their contemporaries to the public. Composers represented are: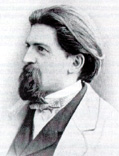 Felix Draeseke (1835-1913): Dubbed a "giant" by Franz Liszt, Draeseke was one of the leading composers of the new-German school. From the late 19th- to early in the 20th-Century, the music of Felix Draeseke was performed and held in high regard by leading artists including conductors Arthur Nikisch, Hans von Bülow, Fritz Reiner, and Karl Böhm. During his career Draeseke composed in most genres, including symphonies, concertos, opera, chamber music, and works for solo piano. Read more about Draeseke from AK/Coburg or visit the Draeseke home page.

Joachim Raff (1822 - 1882): Born in Switzerland, of a family from German Swabia, Raff was largely self-taught in music. As a young man he was drawn back to Germany by encouragement first from Felix Mendelssohn and later by Franz Liszt. Liszt took him on as amanuensis and musical confidante at Weimar in the early 1850s, establishing Raff's association with the New German School. In 1878 he was named the first director of the recently founded Dr. Hoch's Conservatory of Music in Frankfurt-am-Main, where he remained until his death four years later. Read more about Raff from AK/Coburg or visit the Raff home page.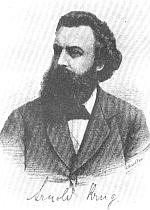 Arnold Krug (1849 -1904): After basic studies with his father in Hamburg, Krug went to Leipzig for instruction with Carl Reinecke, while a grant from the Mendelssohn Foundation allowed two years study in Italy. Returning to Germany he accepted a post at the Stern Conservatory in Berlin but eventually resettled in Hamburg in 1878. Much of his catalog is devoted to choral and vocal music, though several substantial orchestra works including a violin concerto and a symphony, a few chamber works and expected piano pieces also grace his catalog. Read more about Krug from AK/Coburg.