AK/Coburg is a project of the International Draeseke Society and is devoted to bringing the music of Felix Draeseke, and his older contemporary Joachim Raff, to the public. All AK/Coburg productions are characterized by state-of-the-art digital recording techniques, virtuoso instrumentalists, unique repertoire, complete with scholarly notes in both English and in German. The following list some of the artists who have recorded for AK/Coburg:

Acantus String Quartet - Magdeburg (Wolfgang Hasleder and Megumi Makino [violins], Fridtjof Keil [viola], Nikolaus Gädeke [cello]). The Acantus String Quartet of Magdeburg, Germany, was founded originally as the Arlon Quartet by members of the Magdeburg Philharmonic. From its inception the quartet, along with "classic modem" music has dedicated itself to less frequently performed works of late-Romantic repertoire. Through this it became involved with intense study of the chamber music works of Felix Draeseke thereby setting up a cooperative relationship with the German and North American sections of the International Draeseke Society, a relationship which has led to the first recordings of Draeseke's two string quintets. In these recordings they are joined by second cellist Johannes Hartmann, of the Halle Opera Orchestra. [AKCoburg DR0004]

Thomas Crome, French Horn, won first prize in the 1977 and 1979 Jugend Musiziert music competitions. He studied music in Cologne with Prof. Erich Penzel. In 1983 he became the first horn and leader of the Wagner tubas in the Baden State orchestra, an orchestra rich in tradition, in Karlsruhe. He has taught at the Baden Conservatory of Music since 1987 and was guest instructor for the International Horn Days in Tartu (Estonia) and at the state conservatories in Tbilsi (Georgia) and Shenyang (China). He has had numerous solo and chamber music concerts in Europe, the USA, South America, East Africa and China. He also performs on natural horn and Alphorn. [AKCoburg DR0005]

Naomi Gjevre is Assistant Professor of Violin at the University of Wyoming and a founding member of the Lindsayan String Quartet. During the summers she is on the violin faculty at the Interlochen Arts Camp in Michigan. Dr. Gjevre has participated in several music festivals including the Aspen Music Festival, the Bowdoin Summer Music Festival, The Quartet Program, the Festival Internacional de la Cultura in Sucre, Bolivia, among others. Dr. Gjevre's orchestral experience includes the Savannah Symphony Orchestra, the Tallahassee Symphony Orchestra, and the North Carolina School of the Arts Orchestra with which she toured several European countries. Principal teachers include Roland and Almita Vamos, Karen Clarke, Eliot Chapo, and Oswald Lehnert. Her DM degree is from Florida State University 2002.[AKCoburg DR0010]

Hölderlin Quartet (Rebecca Martin, Violin; Christian Friedrich, Violin; Andres Mehne, Viola; Teemu Myöhänen, cello) The Hölderlin String Quartet was formed in 2005 with the intent of presenting classical string quartet repertoire at the highest level. The quartet chose as its patron name that of Friedrich Hölderlin (1770-1843), since these four musicians feel especially dedicated to the poetic and musical art of his period. Each of the individual members enjoys a broadly diverse musical knowledge and innumerable instances as soloist and as members of other chamber music and orchestral groups. Finely delineated and nuanced interpretations delivered with infectious energy characterize the playing of these young artists. The quartet has already played at national centers of Germany and has appeared at the Zeitreich international music festival in Lüneberg. The Hölderlin String Quartet has been stimulated in its efforts by the models of such young ensembles as the Mandelring, Mannheim, Sonare string quartets and members of the Orpheus quartet. Since 2006 the quartet has been furthered by the E&B Weik foundation. [AKCoburg DR0011] [AKCoburg DR0012]

Helmut Loos is the narrator for Draeseke's melodrama Der Mönch von Bonifazio. He was born in 1950; studied music pedagogy in Bonn (government accreditation) and thereafter musicology, art history and philosophy at the University of Bonn, where he received his Ph.D. in 1980 and full professorship (Habilitation) in 1989. 1981-1989 he was research assistant in the musicology seminar at the University of Bonn and from 1989-93 director of the Institute for German Music in the East in Bergisch-Gladbach. Since April 1998 he has held the teaching directorship for historical musicology at the Technical University of Chemnitz and since October, 2001, at the University of Leipzig as well. Dr. Loos is also one of the co-founders of the International Draeseke Society (1983) and presently chairman of its Board of Directors. [AKCoburg DR0005]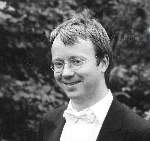 Georg Lustig, English horn, was born in 1969 in Freiburg/Breisgau. From 1981 to 1986 he pursued oboe at the Jugendmusikschule, Freiburg with Günter Theis and received many German federal music awards at Jugend musiziert. 1984-86 he was a member of the Federal Youth Orchestra, Germany and from 1961 to 1991 studied under Prof. Kurt Hausmann at the Hochschule für Musik in Würzburg, and from 1989, also with Prof. Jochen Müller-Brincken; since 1987 a member of the Tiepolo Quintet, which was winner in 1990 and 1991 of the International Chamber Music Competition of the city of Martigny. Thereafter, master courses with Prof. Ingo Goritzki and Lajos Lensces and in 1993 he received an appointment as third principal oboist and English horn player at the Civic Theatre Freiburg and from September, 2001, became solo English horn with the National Theatre Mannheim. In 2002 he became a member of the Orchestra of the Bayreuth Festival. [AKCoburg DR0005]

Eric Moe, pianist and composer, has received acclaim for his performances of new music in Rome, New York, Pittsburgh, Boston, and San Francisco. Dr. Moe was educated at Princeton University (AB) and at the University of California, Berkeley (M.A., Ph.D.). He is currently Associate Professor of Composition and Theory at the University of Pittsburgh where he directs the graduate program in composition and the department's electroacoustic music studio. He was a founding member of the San Francisco based EARPLAY ensemble and currently co-hosts the MUSIC on the EDGE new music concert series in Pittsburgh. He is also active as a performer of older music and has made a specialty of the duo music of Brahms. As a composer he has received grants and awards including commissions from the Fromm and Koussevitzky foundations Guggenheim and Wellesley Composer's Conference fellowships along with residencies at the MacDowell Colony, Yaddo, Bellagio and the American Dance Festival. Compact disc recordings of his music are available from Centaur and CRI . [AKCoburg DR0001] Visit the Eric Moe website.

Wolfgang Müller-Steinbach was born in 1945 and presently lives in Frankenthal near Mannheim, and has been associated with the Music Conservatory Mannheim/Heidelberg as an instructor for many years. He has appeared in concerts as both pianist and chamber music partner; he is much in demand as accompanist for Lieder recitals. He is also a composer of note, having written in all categories, including opera as well as instrumental and other vocal genres In 1989 the International Draeseke Society asked him to do a program with works of Felix Draeseke and since then he has been an enthusiastic proponent of the master's music. Wherever possible (concert hall, radio, etc) he features music by Draeseke and has shown himself to be a leading interpreter of that master's music. Fanfare has described Müller-Steinbach as "both a sensitive accompanist, and a fine soloist with a discriminating sense of touch." [AKCoburg DR0002][AKCoburg DR0003][AKCoburg DR0005]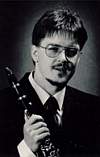 Martin Nitschmann, clarinetist, was born in Goeppingen, Germany in 1962. His early training was under the guidance of Bernd Schledt. From 1981 to 1987 he continued his studies at the Stuttgart Institute for Music and Performance Arts, majoring in clarinet. Since 1987 he has been engaged by the Baden State Theatre in Karlsruhe as deputy clarinetist and is responsible for performance of higher clarinet parts there, in addition to this he has held a teaching position for clarinet at the Stuttgart Institute for Music and Performance Arts. In 1986 Martin Nitschmann was awarded first prize in the prestigious music competition sponsored by the Museum Society for the Furtherance of Young Artists in the city of Ulm. Draeseke's Sonata for Clarinet and Piano, Op. 38, has long been part of Nitschmann's repertoire. [AKCoburg DR0003]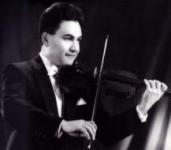 Javier Pinell is Assistant Professor of Violin at the University of Wyoming and a founding member of the Lindsayan String Quartet. During the summers he is on the violin faculty at the Interlochen Arts Camp in Michigan. As a scholar, Dr. Pinell has done pioneer research work on compositions for the violin by contemporary Bolivian composers. He released a disc recording: Bolivia: The Unknown Sounds in 1998. Appearances at festivals include the Echternach Festival in Luxembourg, the Mosel Musik Festival in Germany, the Festival Internacional de la Cultura in Sucre, Bolivia, among others. Principal teachers include Karen Clarke, Eliot Chapo. Hal Grossman, and Peter Michalica. His DM degree is from Florida State University 1999. [AKCoburg DR0010]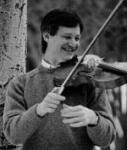 James Przygocki is Associate Professor of Music at the University of Wyoming where he teaches viola, violin, and music education courses. He is also principal violist with the Cheyenne Symphony Orchestra, teaches at the String Academy of Wyoming, and is Director of the University of Wyoming String Project. In the summers Mr. Przygocki is on the faculty at Indiana University Summer String Academy. Mr. Przygocki is active as a performer, conductor and clinician. He has recorded for CRI and his viola transcriptions have been published by One World Strings. His teachers include Mimi Zweig, Jerry Horner, Rostislav Dubinsky, and Gerald Fischbach. He holds advances degrees from Western Michigan University and Indiana University.[AKCoburg DR0010]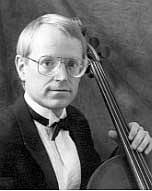 Richard Rognstad has been at the University of South Dakota since 1986, where he conducts the USD Symphony Orchestra and teaches bass. Active as a guest conductor and clinician, he has led orchestras in South Dakota, Wyoming, Colorado, Iowa, Minnesota, and Florida. He has studied conducting extensively with Paul Wolfe, Jurgen de Lemos, Abraham Chavez, and at Indiana University. His bass teachers include Stuart Sankey, Barry Green, and Gaston Dufresne. He has served as principal bass for orchestras in Wyoming, Colorado, Florida, and South Dakota and has appeared as soloist and chamber musician in seventeen states and Canada. An expert in American music, Rognstad has published articles, liner notes, and reviews widely, and been instrumental in finding repertoire for the recordings of the Rawlins Piano Trio. [AKCoburg DR0010]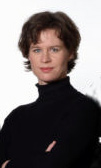 Nanette Schmidt, violinist, was born to a family of musicians in Neustadt-on-the-Weinstrasse as the youngest of three siblings. At the age of four she was already enjoying her first piano instruction and shortly thereafter began her violin lessons. After finishing her secondary education she studied with Ulf Hoelscher at the Music Institute in Karlsruhe, completing her artist's examinations "with distinction". Aside from this she has studied with Gerhard Schulz (of the Alban Berg String Quartet) at the Institute for Art and Music in Vienna. During this period of study she was admitted to the Studies Foundation of the German Nation. Nanette Schmidt is also a founding member of the Mandelring String Quartet which belongs to the most frequently engaged German string quartets and which concertizes worldwide. The quartet has won international competitions in Evian (France), Reggio Emilia (Italy) and the international competition sponsored by German Radio (ARD) in Munich. While working with Wolfgang Müller-Steinbach she was led to the music of Felix Draeseke and has become an enthusiastic promoter of Draeseke's chamber music. [AKCoburg DR0003]

Franco Sciannameo studied in Rome at the Conservatorio di Musica "Santa Cecilia" (Diploma in Violin and Viola Performance and Pedagogy) and later completed advanced studies at the Accademia Chigiana in Siena and at the Accademia Nazionale di Santa Cecilia in Rome. He writes and lectures extensively on contemporary music and its relations to politics, cinema, and the arts. He holds advanced degrees in Historical Musicology and Cultural Studies from the University of Pittsburgh and has published many articles and books in Europe and the United States. As a performer, Sciannameo has collaborated with Giacinto Scelsi, Nino Rota, Ennio Morricone, Franco Donatoni, and Paul Chihara among others in world premieres and the making of original recordings. He has been on the faculty of Carnegie Mellon University since 1990, where he is a College of Fine Arts Distinguished Scholar in Multidisciplinary Studies and also a faculty member of the School of Music and the Center for the Arts in Society. Among his latest scholarly works are: Remembering Scelsi (The Musical Times, 2001); Filippo Trajetta (1777-1854): un musicista italiano in America (Adda, 2002); Aspects of Alfano (The Musical Times, 2002); In Black & White: Pizzetti, Mussolini, and Scipio Africanus (The Musical Times, 2004); Giuseppe Mazzini's Philosophy of Music (1836): Envisioning a Social Opera (Mellen, 2004). [AKCoburg DR0001]
Barbara Thiem is a performer who also teaches cello and chamber music at Colorado State University and the University of Wyoming. Born and raised in Germany, Barbara Thiem came to the United States for graduate studies in music at Indiana University where she studied with Janos Starker and received her Master of Music in cello performance and the coveted Performer's Certificate. In Germany, Ms. Thiem studied with Siegfried Palm (Cologne), a specialist in 20th century cello music.

Ms. Thiem has held teaching positions at Iowa State University, the University of Texas at Dallas, and several universities in Colorado. At present she is also artist-in-residence at Colorado State University. She makes her home in Fort Collins, Colorado, and spends the summers with her family in Austria. She is an active performer as a soloist with orchestras and in solo and chamber music recitals and has been a member of the Dallas Piano Trio and the Mendelssohn Trio. Her concerts and recordings have taken her all over Europe, the US, and Canada. She has produced CD's of Bach's solo suites, cello and bass duos with Gary Karr, works by the 19th century composer Felix Draeseke with Wolfgang Müller-Steinbach, and cello and organ music with Robert Cavarra. Her publications include the translation of Gerhard Mantel's Cello Technique, as well as several articles in the field of music and medicine. In the summer of 2001, Ms. Thiem was the co-director of the summer string festival at Musikakademie auf Schloss Ort, where she organized concert activities, taught and performed in chamber music concerts. [AKCoburg DR0002][AKCoburg DR0010 ]

John Thomson was born in England and moved to New Zealand where he studied violin with David Nalden. He came to the United State in 1985 as a Fulbright Scholar and with a Queen Elizabeth II Scholarship to study violin with Robert Davidovici and to gain Masters and Doctoral degrees in Violin Performance. Thomson has performed as soloist with orchestras throughout New Zealand and the USA, made appearances before dignitaries such as Queen Elizabeth II and former President George Bush, and has served as concertmaster for several orchestras. Critics have praised him as a "stellar soloist" with "brilliant technique and appealing cantabile" and have called his playing a "rare treat". Thomson has enjoyed a variety of musical experiences, including the standard classical repertoire, but also frequently accompanying celebrities such as Frank Sinatra, Paul McCartney, and Bernadette Peters, and acting the part of musical characters in Hollywood movies. Thomson has taught at several universities and has been at the University of South Dakota since 1994. He is also in considerable demand as a conductor, and has led groups on both coasts of the USA and throughout the Midwest. He currently serves as concertmaster of the Northwest Iowa Symphony Orchestra and the Sioux City Symphony Orchestra. [AKCoburg DR0010 ]
Ingrid Würtz, soprano, made her debut as an opera singer at the State Theatre Saarbrücken, Germany,and was then in Brussels, engaged thereafter for many years at the Cologne Opera House. Along with guest appearances at the Bordeaux and Wiesbaden May Music Festivals, she had great success as a concert soloist and Lieder singer at the German Mozart Festival, several times during the Vienna Festival Weeks and Salzburg Culture Days as well as with Lieder recitals in Berlin, Moscow and Venice and before the microphones of various organizations in Germany, the Netherlands and Russia. [AKCoburg DR0005]

Alexander Zolotarev, pianist, was born in St. Petersburg (Leningrad) in 1968 and began playing piano at age five. His professional music education started at age seven when he entered the Central Music School affiliated with the St. Petersburg Conservatory. After studying at the St. Petersburg Conservatory with Profs. M. Halfin and M. Zolotarev, he continued his music education at the Hochschule für Musik in Cologne, Germany under the tutelage of Prof. P. Gililov. In 1991 Alexander Zolotarev received a stipend from the German Academic Exchange Service. The same year he gave concerts at the Schleswig-Holstein Festival and was invited to perform a recital before the President of the Federal Republic of Germany. Since then, Mr. Zolotarev has performed extensively throughout the former Soviet Union, Europe, the United States, and Japan as a recitalist, soloist with orchestra, and on radio and television including recordings for SWR, NDR, WDR, BBC, Russian State Television, Radio Suisse Romande, and RAI among others. Mr. Zolotarev is also a prizewinner of numerous piano competitions including the National Russian Piano Competition, as well as the "Cittá di Senigallia" and "Cittá di Finale Ligure" International Piano Competitions in Italy. Alexander Zolotarev has been combining his active concert career with teaching at the University of Siegen, Germany. Since 2001 he also has been the artistic director of the chamber music festival in Schmallenberg (Hochsauerland), Germany. [AKCoburg:DR0006] [AKCoburg:DR0007] [AKCoburg:DR0008] [AKCoburg:DR0009]