Vorwort zum 4. Symphonie e-Moll / G-Dur (Symphonia Comica)
Read the English version
Im Jahre 1912 leitete Bruno Kittel die ersten beiden Gesamtaufführungen des Mysteriums "Christus" von Felix Draeseke, jener einzigartigen Oratorien-Tetralogie, in Berlin und Dresden. Die begeisterte Aufnahme des Riesenwerkes ebenso wie die einsetzende Anerkennung durch weite Kreise gewährte dem fast ertaubten Altmeister tiefe Genugtuung nach einem an vielerlei Enttäuschungen reichen Leben. Während der Wochen und Monate dieses sicher größten Triumphes in seiner Musikerlaufbahn entstand die letzte große Schöpfung des 77 jährigen, seine Symphonia Comica, deren Kopfsatz am 8.April, dritter und vierter Satz am 25. Juni bzw. 12. Juli und zweiter, langsamer Satz am 22. August 1912 beendet wurden. Ein halbes Jahr vor seinem Tode am 26. Februar 1913 verabschiedete sich Draeseke quasi mit einem genialen Scherzando-Zyklus und lieferte damit nicht nur den heiteren Schlußakkord zu seinem eigenen Gesamtschaffen, dem es an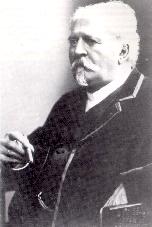 hervorragenden Beispielen in fast allen Gattungen wahrlich nicht mangelt, sondern ging wohl auch auf humoristische Distanz zu einer ästhetischen Anschauung, die Musik als das Allerernsthafteste (Schopenhauer) verstand und die Tonkunst - vor allem in der romantischen Beethoven-Nachfolge - zu einer Art Ersatzreligion stilisierte.' (zitiert nach Michael Stille in Band 5, Veröffentlichungen der Internationalen Draeseke-Gesellschaft: Bemerkungen zu Felix Draesekes 4. Sinfonie in e-moll (Symphonia Comica), S. 93 ff). Daß dies in bewußter Absicht geschehen ist, belegen einige Äußerungen Draesekes in diesem Zusammenhang. So schrieb er am 13.6. 1912 in einem Brief an Bruno Kittel: 'In Deutschland Musiker zu sein gehört einem Kapitel an, das in der Danteschen Hölle fehlt. Aber den Humor habe ich mir nicht verderben lassen, wie mein neuestes Opus - gemeint ist die Symphonia Comica - beweist.'
Schien nach den erfolgreichen Gesamtaufführungen des "Christus" 1912 ein Durchbruch gelungen, so wurden alle Freunde und Anhänger bald eines schlimmeren belehrt. Verleger widmeten sich der Tetralogie nur halbherzig oder zogen schon gegebene Zusagen wieder zurück, wozu Draeseke bemerkte: 'Es ist wieder nichts.- Es ist den Herren wohl nicht klar, wie einen 77 jährigen Componisten die Verweisungen auf spätere Zeiten berühren, denn man hat doch Mühe, an einen offenbaren Hohn nicht zu glauben.' (Erich Roeder, Biographie, Band II, S. 458). Ein "Leitmotiv" in diesem Künstlerleben war das fortwährende Ringen um Anerkennung und Verständnis für eine ganz und gar eigengeprägte musikalische Ausdrucksweise, und es begleitete Draeseke über seinen Tod hinaus bis zum Ende des 20. Jahrhunderts, in dessen zwei letzten Dekaden mit der Gründung der Internationalen Draeseke-Gesellschaft erneut Bemühungen um Draeseke und sein Werk einsetzten, nachdem ähnliche Anstrengungen kurz nach seinem Tode und nochmals in den dreißiger Jahren nicht zuletzt durch die vieles vernichtenden Menschheitskatastrophen zweier Weltkriege ohne nachhaltigen Erfolg bleiben mußten. 'Nur den Kopf hoch behalten und über das Beweinenswerte lachen !' schrieb Felix Draeseke damals an Bruno Kittel - und die vier Sätze seiner Symphonia Comica drücken diesen sympathischen Grundzug seines Wesens in Tönen aus, sozusagen als eine Art "Falstaff" seines Gesamtschaffens.
Seit den von Hermann Rau und Udo-Rainer Follert geleiteten Gesamtaufführungen des Christus-Mysteriums 1990 und 1991 in Speyer und Heilbronn, die auch auf Tonträger (CD) festgehalten wurden, mag man auf verlegerische Initiativen diesem Draesekeschen Hauptwerk gegenüber hoffen. Der Symphonia Comica als der bisher einzigen ungedruckt gebliebenen Sinfonie Draesekes ist es 1996 - 10 Jahre nach Gründung der Internationalen Draeseke-Gesellschaft - vergönnt, nach einem 80jährigen Dornröschenschlaf nunmehr in einem Erstdruck veröffentlicht zu werden. Die Internationale Draeseke-Gesellschaft veranstaltet die Veröffentlichung in Zusammenarbeit mit der Edition Nordstern, Stuttgart, die die Symphonie in Verlag nimmt. Die Sächsische Landesbibliothek Dresden stellte Ablichtungen der in ihrem Besitz befindlichen autographen Partitur (Mus. 7099-N-509) zur Verfügung und gewährte die Erlaubnis zur Veröffentlichung. Dem Institut sei an dieser Stelle herzlich Dank gesagt.
Ganz besonders dankt der Herausgeber auch der Niederfüllbacher Stiftung, Coburg, für die materielle Unterstützung dieser wichtigen Edition, mit der die Drucklegung aller Sinfonien Felix Draesekes abgeschlossenen ist. Die wissenschaftlichen Symposien im Rahmen der IDG Tagungen von 1990 und 1991 in Coburg und Dresden befaßten sich mit Draesekes Instrumentalschaffen und mit seinen geistlichen Werken, und die Ergebnisse sind im 5. Band der Schriftenreihe der IDG veröffentlicht. Michael Stille, der schon zitiert wurde, hat die Symphonia Comica untersucht und geht in seinem Beitrag auf die in der 4. Symphonie angekündigte Qualität des Komischen ein, für die 'dieser zeitliche Abstand zur Phase des intensiven Ringens um die symphonische Tradition im 19. Jahrhundert allerdings von großer Bedeutung' ist. (Felix Draeseke schuf seine Comica mehr als ein Vier-teljahrhundert nach seiner Symphonia Tragica, die 1885/86 entstand). 'Komik besitzt' - so argumentiert Michael Stille - 'die Eigenschaft, Geltendes in Frage zu stellen, Geltungsansprüche in scherzhafter Weise zu negieren, indem sie allgemein anerkannte Normen bewußt - und quasi mit der Geste eines Augenzwinkerns - verletzt. Der Schein des Kunstschönen wird dadurch für Momente außer Kraft gesetzt und durch das überraschend eingeführte kleine, unbedeutende oder von den ästhetischen Regeln Abweichende verdrängt. Auch mit immanent musikalischen Mitteln kann eine derartige Negation des Geltenden hervorgerufen werden, wenn durch Verstöße gegen kompositionstechnische Normen der Wertanspruch eines musikalischen Kunstwerkes scherzhaft aufgehoben wird. Eine solche Wirkung tritt allerdings nur unter der Voraussetzung ein, daß sich der Hörer nicht emotional mit dem Werk identifiziert, weil dann mögliche Regelverstöße ernst genommen werden und Unverständnis, Ärger, ja sogar Wut auslösen können. Der humoristisch eingestellte Zuhörer dagegen, der die Musik aus der Position reflektierender Distanz wahrnimmt, vermag den Narren hinter einer scherzhaften Geste zu erkennen und quittiert die Normenverletzung mit einem befreienden Lachen.'
Im Blick auf Draesekes schon geschilderte Lebenssituation 1912 erhält Stilles Feststellung besonderes Gewicht: 'Ebenso wie auf seiten der Zuhörer muß auch beim Komponisten einer komischen Musik die subjektive Bedingung humoristischer Distanz zu dem Produkt seines Schaffens erfüllt sein, da ein Künstler, der auf dem Gebiet der Tonkunst ausschließlich Geltung zu erlangen sucht, nicht sein Werk - und damit auch sich selbst - in Frage stellen würde'. - Daß Humor sich ganz unterschiedlich äußern kann, muß im Blick auf Draesekes Comica betont werden. Vom subtilen Scherz, der nur ein leises Lächeln hervorzurufen vermag, über deftige Parodie und Satire, die schallendes Gelächter provozieren können, bis hin zur Groteske, bei der einem das Lachen im Halse stecken bleibt, sind Abstufungen des Komischen möglich, und in den vier Sätzen der Symphonia Comica bekundet Draeseke verschiedene Grade von Humor, deren Ausdrucksformen - wie vor allem der Vergleich musikalischer Mittel des Komischen im ersten und zweiten Satz erhellt - sich sogar kraß entgegenstehen können.
Der erste Satz präsentiert sich in seiner äußeren Form geradezu als klassizistisch ausgewogener Sonatenhauptsatz. Vordergründige Späße allerdings sucht man hier vergebens.

Freilich gibt die anscheinend von Draeseke selbst stammende Tonartenbezeichnung der Comica als "Symphonie in e-Moll" Anlaß zu "heiterer" Spekulation ! Will der Komponist schon hier seinen Schabernack treiben ? Denn mit den den Satz eröffnenden drei Einleitungsakkorden - womit er sich an seine 2. Sinfonie in F-Dur erinnert haben mag - scheint er nichts eiligeres vorzuhaben, um sich mehr oder weniger überall zu tummeln, nur kaum in der angeblichen Haupttonart. Das Kopfmotiv des 1. Themas zeigt eindeutig G-Dur und mit ihm führt Draeseke auch unisono den Schluß des Satzes herbei. Wie um der traditionellen Schule eine artige Verbeugung zu erweisen schließt die Exposition natürlich auf der Dominante der angeblichen Haupttonart, nämlich in H-Dur. Dann aber treibt Draeseke sein heiter-unbekümmertes Spiel in der Durchführung mit allen musikalischen Mitteln, ganz nach der Art des "Kaisers in neuen Kleidern": 'Schaut her - wie schön ich doch aussehe...!' Es kann nicht der Sinn eines Vorwortes sein, alle versteckten Späße und Witzigkeiten aufzuzeigen; außerdem wirken diese ohnehin nur beim Hören ! Aber man hat von Anfang an den Eindruck, daß der Komponist seiner aufmerksamen und "andachtsvollen" Zuhörerschar hier die Sonatenform mit all ihren Möglichkeiten erläutern und dies und jenes zeigen will - und sein Zeigestab dabei ist - die Fliegenklatsche! Diese nämlich spielt im langsamen 2. Satz eine wichtige Rolle - wenn man dem überlieferten Programm vom im Lehnstuhl ausruhenden Onkel, der mit seinen hinzustürmenden Neffen lästige Insekten im spannenden "Fliegenkrieg" abwehrt und besiegt, glauben darf. Man kann sich aber auch sehr gut vorstellen, daß mit dem "Fliegenkrieg" ganz anderes gemeint ist ! Ist der 2. Satz etwa eine heiter schmunzelnde Erinnerung an Erlebtes? Wie oft mußte sich Draeseke in seinem langen Künstlerleben gegen penetrante Sticheleien und bösartige Angriffe wehren, die genauso wie die Solo-Violine im 2. Satz unbeirrt auf einer Meinung, d.h. immer auf dem gleichen Ton beharren - wenn es auch noch so weh tut! Die Abwehr mit der - verbalen - "Fliegenklatsche" wirkt denn auch wirklich wie ein derber Spaß. Das eigentliche Scherzo der Symphonie ist ein virtuoser Orchestersatz, in dem Draeseke seine farbige Instrumentationskunst ausbreitet. Ob er mit den schauerlichen Tonwiederholungen der Trompeten nochmals an jene "Sticheleien" erinnert, sei dahingestellt!
Das traditionell zum Scherzo gehörende Trio kann nicht überhört werden - überdeutlich stampft es denn auch daher, schwer und gewichtig - wie verlangt! Auch im Finale treibt Draeseke in vieler Hinsicht sein närrisches Spiel mit witzigen Verzierungen des Hauptthemas, unerwarteten rhythmischen Akzenten und äußeren dynamischen Gegensätzen. Mag auch die Haupttonart e-Moll genannt sein - der musikalische Ulk findet in (fast) allen Tonarten statt (warum nicht auch gelegentlich e-Moll... ) und endet schließlich eindeutig im gesamten Orchester auf einem G - ohne Terz und ohne Quinte - ganz so, als wollte Draeseke schmunzelnd mitteilen: 'Eigentlich sollte alles ganz, ganz anders werden - aber das ist herausgekommen bei aller Mühe... eben eine Comica !' Draeseke hatte wohl doch zu den pseudoreligiösen Tendenzen der romantischen Kunstauffassung ausreichend Abstand gewonnen, daß er nun seinerseits mittels seiner Comica sich selbst und anderen zurufen konnte, was in anderem Zusammenhang und stets inhaltsschwer weitergereicht wurde: 'Plaudite, amici, comedia finita est !' Und genau das scheinen die witzigen Schlußfloskeln in allen Sätzen außer dem langsamen ausdrücken zu wollen.
Michael Stille schreibt zum Schluß seiner Untersuchung: 'Mit diesem Versuch einer humoristischen Demontage der Symphonie, die auf die Gattung überhaupt bezogen werden kann, kommentiert Draeseke seine Stellung innerhalb der musikgeschichtlichen Entwicklung seit Beginn des 20. Jahrhunderts. Als der größte Teil der Komponisten seiner Generation, auch zahlreiche Freunde und Helfer seiner Kunst bereits verstorben waren, mußte er miterleben, wie mit der schrittweise erfolgenden Auflösung der Tonalität allmählich die grundlegenden, für ihn verbindlichen Gestaltungsprinzipien musikalischer Komposition ihre allgemeine Geltung verloren und sich neue Schulen bildeten, deren Ziele er nicht mittragen konnte. Ein ernsthaftes Fortführen seiner Arbeit auf Grundlage der tradierten musikalischen Regeln schien ihm zu dieser Zeit ebenfalls nicht mehr möglich zu sein. So blieb ihm einzig der Ausweg, in der Verkleidung des Narren sich über das Regelwerk ästhetischer Normen zu erheben und seinen Gegnern und Kritikern, die ihn vor allem wegen seiner Schrift "Die Konfusion in der Musik" (1906) angegriffen hatten, eine lange Nase zu zeigen.'
Forward to the Symphony nr. 4 in e-minor/G-major (Symphonia Comica)
Deutsche Fassung
Bruno Kittel conducted the first two complete performances in 1912 in Berlin and Dresden of that singular oratorio tetralogy of Felix Draeseke, the Mysterium, "Christus". The enthusiastic reception of the work and growing recognition in different circles were sources of satisfaction for the elderly and, by then, almost totally deaf composer. He had behind him a life rich in disappointments of all kinds, but in those weeks and months of what was assuredly the greatest musical triumph of his career, a work came into being which would rank as the last grand creation of the 77 year old, his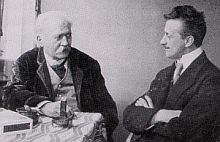 "Symphonia Comica". The symphony's first movement was finished by April 8th, with the third and fourth movements following between June 25th and July 12th, while the slow, second movement, was completed on August 22nd, 1912. One might say that half a year before his death, Draeseke was taking leave of his career with a genial "scherzando" cycle. In this he delivers a conclusive and merry chord in his creative output, an output truly not lacking in outstanding efforts in all musical categories. He also seems to be distancing himself with it from an 'aesthetic perception which regarded music as the most serious of the arts (Schopenhauer) and stylized it - primarily among the Romantics in the aftermath of Beethoven - as a kind of substitute religion,' (quoted from Michael Stille, "Remarks about Felix Draeseke 's Fourth Symphony in E minor (Symphonia Comica)," Vol. 5, Publications of the International Draeseke Society, p. 93). That such distancing was intended is given credence by certain remarks of Draeseke in a letter written to Bruno Kittel dated 13.6.1912: 'Being a musician in Germany belongs to a chapter missing in Dante's 'Inferno". I haven't let this spoil my sense of humor however, as is shown in my latest opus" - by which he means the "Symphonia Comica". (English translation by Alan Krueck, "The Symphonies of Felix Draeseke", diss. U. of Zuerich, 1967, o. 149).
If it seems that some breakthrough resulted from the successful 1912 performances of "Christus", Draeseke's friends and admirers soon learned otherwise. Publishers either treated the tetralogy with feigned interest or simply withdrew their promised support. Draeseke reacted to it all with the comment, "Nothing again - evidently these gentlemen have no concept of what it means for a 77 year old composer to wait for later dates; you really have to restrain yourself from thinking that they're acting with open contempt." (Erich Roeder, "Felix Draeseke", Vol. 2, p. 458). Such constant struggle in gaining recognition and understanding for his originality and personal manner of musical expression seems to have been a leitmotive in Draeseke's artistic life, and it is a leitmotive which has continued in the 20th century since his death. Among the efforts made on his behalf in the past two decades is the founding of the International Draeseke Society, an organization which has assumed Draeseke's cause after similar efforts on his behalf immediately following his death, and again others in the thirties, had failed; two catastrophic world wars did nothing to enhance enduring progress. "Just hold your head high and laugh at the pity of it all!" - thus did Draeseke write to Bruno Kittel in 1912 - and the "Symphonia Comica's" four movements convey this admirable personal trait in sound and, as such, the work may be regarded as a sort of "Falstaff' in his output.
After complete performances of the "Christus" Mysterium conducted by Hermann Rau in Speyer in 1990 and by Udo Follert in Heilbronn in 1991 - performances captured in recordings - prospects for initiatives regarding the publication of another major work of Draeseke are positive. Draeseke's "Symphonia Comica" remained the last of his symphonies to be published, until now, for in 1996 - ten years after its founding - the International Draeseke Society was enabled to awaken the work from its 80 years as a "Sleeping Beauty" and make it available in its first published edition. The International Draeseke Society organized publication in conjunction with Nordstern Verlag, Stuttgart, which now lists the work in its catalog. The Saxon State Library, Dresden, made available a photocopy of the manuscript in its collection (Mus. 7099-N-509) and granted permission for publication. Gratitude for its cooperation is herewith expressed. The editor wishes to especially thank the Niederfuellbacher Foundation, Coburg, for material subsidy of this important edition whereby publication of all the Draeseke symphonies has been concluded.
The musicological symposiums of the International Draeseke Society, conducted in 1990 in Coburg and 1991 in Dresden, were concerned in the first instance with Draeseke's instrumental output and, in the other, with his sacred music. This research was published in Volume 5 of the series, "Publications of the International Draeseke Society". Michael Stille, who was quoted here previously, dealt with the "Symphonia Comica" and in his paper focused on the implied concept of the comical, a quality considered of special importance 'for coming to terms with the symphonic tradition of the 19th century at our present phase of temporal distance.' (Felix Draeseke created his "Comica more than a quarter century after his "Symphonia Tragica", which was composed in 1885-86). 'The comical - almost with the bat of an eye - possesses the quality of questioning validity and negating demands of validation in a jesting manner, while at the same time intentionally infringing generally accepted norms,' writes Michael Stille. 'Apparent beauty of artifice is thereby put off balance momentarily and replaced by sudden interjection of trite or unimportant deviation, or deviation from aesthetic determinants. Even with imminent musical means, a certain negation of what is asserted can be achieved when the implied value of a musical work of art is jokingly neutralized by violation of norms of compositional technique. Such effect can only be entertained if the listener doesn't identify emotionally with the work, for then the possible violation of rules may be taken seriously and misunderstanding, disgruntlement and even rage can result. On the other hand, the listener who assumes a humoristic stance and perceives music from a reflective distance is able to recognize the fool behind the gesture of jocularity and may regard any damage to expected norms with a liberating laugh.'
Taking into consideration the situation in Draeseke's life in 1912 previously described, Stille's elucidation assumes special significance: 'The subjective condition of humorous distancing from the product of his creativity must be carried out as much by the composer as by his listeners, for an artist who seeks exclusively to reach validation in the realm of music would not place his work - and therewith himself as well - in question.' In regard to Draeseke's "Comica" it should be emphasized that humor can manifest itself with varying manner. Draeseke expresses various levels of humor in the four movements of his "Symphonia Comica", from that of a subtle joke provoking but a gentle smile, to solid parody and satire evoking laughter and on to grotesquery which might cause some to convulse with laughter - all these forms of expression may even stand in crass opposition to each other, as can be seen above all in the comparison of musical means for the comical manifest in the first and second movements.
In exterior detail the first movement exhibits an almost classically defined sonata-allegro. One looks in vain for any obvious jokes, though there is room for "merry" speculation concerning Draeseke's choice of E minor as the home key for his "Comica" symphony. Was the composer making an intentional display of humor by choosing that tonality? It seems likely that the composer had nothing more urgent in mind than cutting loose from the three introductory chords which establish E minor - chords which he may have been subconsciously recalling from the opening of his 2nd Symphony in F major - and tumbling about tonalities, though rarely in the home key. The kopfmotive of the first theme clearly reveals G major and it is in that tonality that Draeseke delivers the unison ending of the movement as well. As if making a bow to traditionalists, the exposition naturally ends on the expected dominant of the home key, B major. After that, however, during the development section, Draeseke takes off in a devil-may-care attitude, using all means at his disposal to produce merriment in the tradition of "The Emperor's New Clothes": 'Now look here - how lovely I appear...!' The purpose of this foreword cannot be simply to call attention to hidden jokes or examples of wit in the music since they make no effect without being heard. One has the impression from the very beginning that the composer wants to illustrate all facets of sonata-form, calling the attention of his alert and "reverent" listeners to now this and now that - with his pointer at hand being a fly swatter. And it actually plays a major role in the second movement, if we are to believe the program that has been passed on to us: An uncle, resting in his armchair, wards off the irritating insects with the aid of a clamorous nephew and subdues them during an exciting "Battle of the Flies". One can well imagine that this "Battle of the Flies" in the "Comica" has other meaning. Is this second movement the composer's cheerful grin recalling experience? How often it was that Draeseke had to ward off persistent barbs and biting attacks throughout his long life as an artist, just like the solo-violin in the second movement, unwavering in its insistence on a single opinion - i.e., always the same note - no matter what the irritation. Defense with a - verbal - "fly swat" really does work as blunt joke. The actual scherzo of the symphony is a virtuosic orchestral movement in which Draeseke broadly applies his art of instrumental coloration. Whether he is once again recalling some "barbs" by means of raucous note repetition in the trumpets, is a matter of conjecture. Even the trio section, certainly part of the scherzo, is not left out at all, for it stomps about in overemphasis, heavy and weighty - as is indicated.
In many a way Draeseke keeps up the game of jest in the finale as well: witty decorations of the main theme, unexpected rhythmic accents and extreme degrees in dynamics. It may be that E minor has been designated the home key, but the amusement takes place in (almost) all other keys (so why of E minor every now and then as well...?) before everything ends - without third or fifth - on an emphatic 'G' for full orchestra, as if Draeseke wanted to tell us with a smile: Everything should have happened really quite differently, but this is what we have from all the effort - right, a "Comica" !"
Draeseke had sufficiently distanced himself from pseudo-religious tendencies of Romantic concepts of art so that he was now able to proclaim for others as well as for himself that which, with different reference, conveys intimations of profundity: 'Plaudite, amici, comedia finita est!' And that seems to me what is intended by those final witty flourishes to all the movements except the slow one.
Michael Stille writes at the conclusion of his investigation: 'The humorous demontage of the concept symphony" which Draeseke attempts, is definitely applicable to the category, for with it he is commenting on his own position within music's historical developments since the beginning of the 20th century. At a point where a great number of composers of his generation had already died, and numerous friends and supporters of his art were gone, he was forced to witness how stepwise dissolution of tonality gradually eroded formal principles and destroyed a validity which was obligatory for him. 'he resultant new schools which developed, had goals which he could not endorse. At the time, any serious continuation of his work on the basis of traditional rules seemed in consequence no longer feasible. Hence, his only solution was to elevate himself above operative rules of aesthetic norms and put five fingers to his nose for the critics and opponents who had attacked him primarily for his essay, "Confusion in Music".'
Translation, Alan H. Krueck
1996
---
Bibliographie/Bibliography
1. Alan Henry Krueck, The Symphonies of Felix Draeseke, Diss. Zürich 1967.
2. Erich Roeder, Felix Draeseke. Der Lebens- und Leidensweg eines deutschen Meisters, Bd.1, Dresden [1932], Bd.2, Berlin 1937.
3. Michael Stille, Bemerkungen zu Felix Draesekes 4. Sinfonie in e-moll (Symphonia Comica), Veröffentlichungen der Internationalen Draeseke-Gesellschaft, Band 5, 93ff, Bonn 1994.
---
Related pages:
•Conceptualising the Symphonia Comica by Alan Howe
•Program booklet from the 1914 premiere, Hoftheater Dresden
•Review of a 1918 Dresden performance by Georg Stolz (Sammlung Ebert)
•Read a review of the cpo recording by Rob Barnett at MusicWeb International
•Read a review of the cpo recording by Calum MacDonald (Internat Record Review)
•Read a review of the cpo recording of this Symphony by Alan Howe
Read the English version - Deutsche Fassung