Foreword to the First Edition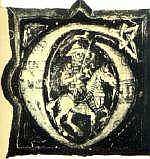 Among the many disappointments which Felix Draeseke (1835-1913) had to endure during his career as a composer, perhaps the most disappointing concerns the fifth of the works which he created for the stage, his opera Bertran de Born. During its composition and in the period following its completion, comments were made that the material of Bertran de Born would be of little interest to the public, others criticized the many recitative-like passages in it, and still others objected to its length. To be sure, even today the historical background to the opera and its major figure Bertran de Born are not exactly everyday conversational topics and it would be indeed difficult to locate a literature enthusiast acquainted with even the most cursory details of Bertran de Born's life. If found, such a person would probably call to mind distant memories of the final ten lines of the 28th Canto in Dante's Divine Comedy, where Bertran is treated, the same lines which served Heinrich Heine und Ludwig Uhland in writing their presently all-but-forgotten ballads about Bertran de Born. One might take a more positive position and assert that if Draeseke's opera Bertran de Born had ever been performed, the figure Bertran de Born might be better known because of Draeseke's dramatic characterization.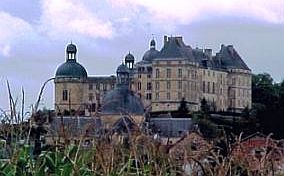 Historically considered, Bertran de Born is really a personality easily understood: he was, at one and the same time, both knight and troubadour, also lord of Hautrefort in the Perigord vicinity, and a man who took part in the frequent conflicts afforded by feudal politics and who spent his final years – he lived between 1140 – 1215 - in the Cistercian monastery near Hautrefort. In French literary history he is counted among the most important Provencal troubadours, and almost always with reference to his lament on the death of young Prince Henry of England, son of Henry II of England and Normandy. It was Bertran's position between Prince Henry and his father which led Dante to characterize Bertran as a latter day Ahitophel, advisor to Absalom in Absalom's quarrel with his father King David, as recounted in 2 Samuel, 15-17 in the Old Testament. That a poet from Provencal – that is, an area practically Mediterranean – could become involved in intrigues around the English Channel – is explainable only by virtue of Henry II's marriage with Eleanor of Aquitaine. Against such historical background as the power struggles in the reigning English house of the time, the potential for dramatic development of major personalities is incalculable, as it is also for secondary personages, to which group the figure of Bertran de Born really belongs, historically considered. It is this very position of a Bertran de Born that presents the necessary plasticity for the formation of a convincing dramatic character, especially since Draeseke created his Bertran as a man who represents an interweaving of the attitudes of others, but one who also exhibits characteristics of a guide through a labyrinth of almost Machiavellian motivation. Draeseke worked within the dramatic limits of his time: while attentive to Goethe and Schiller, he swayed between Kleist and Hebbel, and applied important poetic innovations of Wagnerian Gesamtkunstwerk in his text. The libretto for Bertran de Born not only underscores Draeseke's significant poetic talent, but his keen sense for dramatic characterization as well, and this text is certainly comparable in effect to its predecessor, Gudrun. The entire text (and the only part of the opera printed) appeared in Dresden, 1895 (Ulrich Verlag).
The action of the opera is unfortunately not easy to explain succinctly and the reader is here referred to more detailed summaries by Erich Roeder in the second volume of his study Felix Draeseke: Der Lebens-und Leidensweg eines deutschen Meisters (Berlin, 1937) and Helmut Loos, Felix Draesekes Opernschaffen in Die Dresdner Opera im 19. Jahrhundert (Dresden, 1995), for the following introduction affords only general orientation.
Act I. The setting is Normandy. Prince Henry and Geoffrey, sons of Henry II and their sister Helen, come on the scene with Papiol (servant of Bertran), Bertran's niece Marietta and Bertran himself. Prince Henry falls in love with Marietta immediately and comes under the influence of Bertran. Bertran senses his own feelings of love for Helen, but at the same time advises Prince Henry to defend his domains against his father and other brother, Richard the Lionhearted.
Act II. Near Rouen the forthcoming union between Helen and a Bohemian ruler is dissolved by Prince Henry. Henry II appears with his forces and attacks Prince Henry and Geoffrey. Prince Henry is killed and Marietta reveals Helen's intent to flee with Bertran.
Act III. The court at Autrafort is the final setting. King Henry subjugates the castle. Marietta and Papiol are killed, while Bertran and Helen are taken prisoner. Moved by Bertran's Lament on the death of Prince Henry, he grants atonement only for the abduction of Helen. Helen tries to get complete pardon for Bertran from her father, but Bertran steps forth and requests to be regarded merely as religious penitent and crusader. Granted this by the king, Bertran departs the nobles. Helen screams out and dies, while Bertran, crucifix in hand, slowly leaves the scene.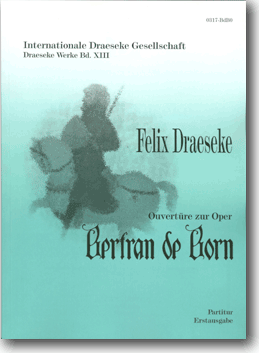 The overture to Bertran de Born leads directly into the action of the opera, though Draeseke supplied a concert ending in the piano reduction, and prepared an orchestral score of the overture with this concert ending as well. The overture was first performed at a public concert of the orchestra of the Leibgrenadierregiment 100 conducted by Otto Herrmann on March 9, 1901, which took place in the Dresden Zoological Gardens. The overture thus contains the only music of the opera which has ever been performed publicly and during Draeseke's lifetime twice more after the premiere: on Dec. 9, 1903 in the Dresden Garden of Palms during a concert of the orchestra of the 107th Infanterie-Regiment, the same ensemble which played it again on Nov.13, 1905 – during the 70th birthday celebrations for the composer.
The score for these performances, together with a set of forty-eight handwritten and fully corrected orchestra parts are to be found in the music manuscript collection of the Saxon State and University Library, Dresden, under catalog listing MUS 7099 – F – 502 and MUS 7099 – F – 501. They do not appear to have been used after 1921 and serve now as the basis for this first publication of the score and parts to the Overture to Bertran de Born by Felix Draeseke. It is known, however, that Draeseke's friend in Stuttgart, Theodor Röhmeyer, made a copy of this overture for himself, since Draeseke thanks him in writing for doing so (in a letter cited in Vol. II of Erich Roeder's aforementioned Draeseke study). It was Röhmeyer, by the way, who was able to calm Draeseke with the report that, after the fire in the Stuttgart opera house in January 1902, that he himself had seen the materials for Bertran de Born (which had been in depot there pending possible performance) among the undamaged remains.
Erich Roeder (p. 286, Vol. II) found an expression of "brazen Romanticism in this instrumental part of the opera" and wrote: "This aura (of Romanticism) characterizes the grand overture, which in power and passion of tonal language surpasses even the Gudrun overture." It is difficult to agree with Roeder's assessment of the overture's form as a rondo, however. Draeseke employs leitmotif technique throughout the opera and, in its course, the overture admittedly presents five major leitmotifs in alternation, but general rules of rondo are not obeyed. "With fiery gesture the Love Motive inaugurates the music", and this music refers to the love of Bertran for Helen. The next motive handled is from Helen's Prayer in Act III, which is countered by the Battle Motive of the older King from the middle of Act II. This command for battle is countered by the War Cry of Marietta from Act III. The development of these two motives of conflict results in an exceptionally powerful orchestral richness, during the course of which unusual harmonic twists and surprising contrapuntal combinations occur until the music, steadily decreasing in volume and tempo, subsides into presentation of the noble theme of reconciliation between Henry II and Bertran, that is, at Draeseke's textual quote from Uhland's Bertran poem, "Nimm die Hand, Du Freund des Toten" (Take this hand, thou friend of my dead son), which itself is a G-flat major transformation of the C minor melody in Henry's accusations against Bertran: it is this very G-flat melody which emerges at the end and brings a sense of transfiguration at the conclusion of the concert version of the overture.
The first printing of the orchestral score and parts for the overture to the opera Bertran de Born by Felix Draeseke has been made possible through financial assistance of members of the International Draeseke Society/North America.
Related Link: Bertran de Born: Complete Works

Ouvertüre zur Oper Bertran de Born - Vorwort zum Erstdruck
Unter den vielen Enttäuschungen, die Felix Draeseke (1835-1913) während seiner kompositorischen Laufbahn erleben mußte, scheint das fünfte seiner für die Opernbühne geschaffenen Werke das Enttäuschendste gewesen zu sein. Dem Komponisten wurde vorgeworfen, der Stoff seiner Oper Bertran de Born würde das Publikum nicht interessieren, anderen gefielen die vielen rezitativähnlichen Passagen darin nicht, und wieder andere fanden das Werk einfach zu lang. Zwar ist der geschichtliche Stoff und dessen Hauptfigur Bertran de Born heute (und damals) nicht in aller Leute Munde, und es würde uns schwer fallen, einen Vielbelesenen aufzutreiben, der auch nur oberflächlich fie Tatsachen seine Lebens kennt, welche hauptsächlich aus grauer Erinnerung an die zehn Schlußzeilen im 28. Kapitel der Göttlichen Komödie von Dante stammen würden, die späteren Dichtern wie Ludwig Uhland und Heinrich Heine dazu dienten, ihre uns heute fast unbekannten Balladen über diesen Bertran de Born zu schreiben. Wäre Draesekes Oper je aufgeführt worden, dann wäre wenigstens die Figur Betrans durch Draesekes dramatische gestaltung für uns zugänglicher gemacht worden.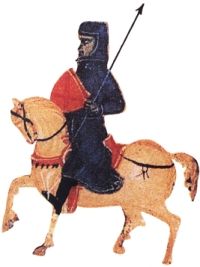 Denn Bertran de Born ist geschichtlich leicht zu begreifen: Ritter und Troubadour zugleich, war er Herr von Hautrefort in der Nähe von Perigord, nahm häufig an den damaligen Feudalkleinkriegen statt – er elebte etwa zwischen 1140 und 1250 - und verbrachte seine letzten Jahre im Zisterzienzer-Kloster Dalon bei Hautrefort. In der französischen Literaturgeschichte wird er zu den bedeutendsten Minnesängern der Provence gezählt, und fast immer mit besonderem Hinweis auf sein Klagelied über den Tod des Jung-Heinrich von England. Es ist die Stellung zwischen Jung-Heinrich und seinem Vater Heinrich II. von England und der Normandie, die Dante Anlaß gab, Bertran zugleich mit Ahitophel, Ratgeber Absaloms im Streit mit seinem Vater König David zu erwähnen, wie in Samuel 15-17 berichtet wird. Daß ein Dichter aus der Provenz – also praktisch aus dem Mittelmeerraum - in die Intrigen um den englischen Kanal verwickelt werden könnte, läßt sich durch die Erweiterung des Reiches von Heinrich II. durch seine Ehe mit Eleanor von Aquitanien erklären. Vor dem Hintergrund des Machtstreits innerhalb des damaligen englischen Königshauses entstehen unzählige Möglichkeiten der Dramatisierung nicht nur hinsichtlich Hauptfiguren, sondern auch der Nebenspieler, zu denen Betran de Born –geschichtlich betrachtet – eigentlich gehört. Das ermöglicht aber die Plastizität zur Formung eines dramatischen Hauptcharakters, der wie Draeseke seinen Bertran schuf, eine Verflechtung der Anschauungen anderer vertritt, aber auch als Wegweiser durch das Labyrinth menschlicher Motive dargestellt wird. Draeseke arbeitete natürlich innerhalb der dramatischen Grenzen seiner Zeit. Auf Goethe und Schiller achtend, schwankte er eher zwischen Kleist und Hebbel und machte sich die wichtigeren Anschauungen Wagners hinsichtlich des Gesamtkunstwerks zu eigen. Das Textbuch zu Bertran de Born läßt nicht nur Draesekes poetisches Talent deutlich sichtbar werden, sondern auch seinen Sinn für dramatische Wirkung, und es ist mit seinem Gudrun-Text zu vergleichen. Das ganze Textbuch erschien1895 im Dresdner Verlag Ulrich.
Die Handlung von Bertran de Born ist leider nicht leicht kurz zu erklären und der Leser wird hier auf ausführlichere Zusammenfassungen davon von Erich Roeder ( im zweiten Band seiner Studie Felix Draeseke: Der Lebens- und Leidensweg eines deutschen Meisters, Berlin 1937)) und Helmut Loos (Felix Draesekes Opernschaffen in Die Dresdner Oper im 19 Jahrhundert, Dresden 1995) hingewiesen. Es diene hier die folgende Einführung zur Orientierung:
1. Aufzug. Der Schauplatz ist die Normandie. Jung-Heinrich und Gottfried, Söhne von Heinrich II, und ihre Schwester Helena, treten mit Papiol (Diener Betrans) und Marietta (Nichte Bertrans) und Bertran selbst auf . Jung-Heinrich verliebt sich in die Marietta und kommt unter Einfluß von Bertran. Bertran empfindet Liebesgefühle für Helena, aber gleichzeitig rät er Jung-Heinrich sich gegen seinen Vater und anderen Bruder Richard Löwenherz zu verteidigen.
2. Aufzug. In der Nähe von Rouen wird die Verlobung zwischen Helena und einem böhmischen Fürst durch Jung-Heinrich gelöst. König Heinrich II erscheint mit Gefolge und greift Jung-Heinrich und Gottfried an. Jung-Heinrich wird getötet und König Heinrich erfährt durch Marietta das Vorhaben Helenas mit Bertran zu fliehen.
3. Aufzug. Der Hof von Autrafort ist der Schauplatz. König Heinrich erobert das Schloß. Marietta und Papiol finden den Tod, während Bertran und Helena gefangen genommen werden. Durch Bertrans Klagelied auf den Tod von Jung-Heinrich wird König Heinrich II so berührt, daß er nur Sühne für die Entführung Helenas verlangt. Helena versucht die volle Begnadigung Betrans zu erzwingen, aber Bertran spricht seinen Wunsch aus, nur als Büßer und Kreuzfahrer anerkannt zu werden. Nachdem der König ihm das gewährt, zieht sich Bertran aus dem Kreis zurück. Helena schreit auf und stirbt , während Bertran, ein Kruzifix in der Hand haltend, die Szene langsam verläßt.
Die Ouvertüre zu Bertran de Born führt ohne Pause direkt in die Handlung, aber Draeseke hat doch im Klavierauszug einen Konzertschluß geschrieben und auch eine selbstständige Orchesterpartitur der Ouvertüre mit diesem Schluß versehen. Die Ouvertüre wurde zum erstenmal am 9. März, 1901in einem Volkssymphoniekonzert der Kapelle des Leibgrenadierregiments 100 unter einem gewissen Otto Hermann gespielt, das im Dresdner Zoologischen Garten stattfand. Die Ouvertüre enthält also die einzige Musik aus der Oper, die je öffentlich aufgeführt wurde, sogar noch zweimal nach der Uraufführung zu Lebzeiten Draesekes: am 9. Dezember 1903 im Dresdner Palmengarten während eines Konzerts der Kapelle des Infanterie-Regiments Nr. 107, desselben Ensembles, das die Ouvertüre auch am 13. November 1905 –also zum 70. Geburtstag des Komponisten - spielte. Die Partitur für diese Aufführungen besteht aus 34 Seiten und wird, zusammen mit 48 handgeschriebenen und völlig korrigierten Orchesterstimmen, in der Draeseke Sammlung der Musikhandschriftenabteilung der Sächsischen Landesbibliothek - Staats -und Universitätsbibliothek Dresden unter Signatur MUS 7099 - F -500 aufbewahrt. Sie scheinen nach 1921 nicht wieder benutzt worden zu sein und dienen jetzt als Vorlage für diesen Erstdruck der Partitur und Stimmen der Ouvertüre zu Bertran de Born von Felix Draeseke. Bekannt ist, daß Draesekes Freund Theodor Röhmeyer 1901 in Stuttgart für sich selbst eine Abschrift dieser Ouvertüre anfertigte, da Draeseke ihm in einem Brief dankt, den Erich Roeder auf Seite 381 des zweiten Bandes seiner Draeseke-Biographie zitiert. (Röhmeyer war es auch, der Draeseke nach dem Brand des Stuttgarter Opernhauses im Januar 1902 mit der Nachricht beruhigen konnte, daß er selbst die zu dieser Zeit in Stuttgart liegenden Materialien zu Bertran unter den unbeschädigten Dingen gesehen habe.).
Erich Roeder fand "den Ausdruck einer ehernen Romantik" im instrumentalen Teil der Oper und schreibt: "Diese Grundhaltung kennzeichnet die große Ouvertüre, die an Wucht und Leidenschaft der Tonsprache die Gudrun Ouvertüre übertrifft." Es fällt aber schwer Roeders Behauptung zuzustimmen, die Form der Ouvertüre sei ein Rondo. Draeseke arbeitet in der Oper leitmotivisch, und die Ouvertüre bietet dem Zuhörer in ihrem Verlauf fünf musikalische Leitmotive an, die, obwohl abwechselnd behandelt, den anerkannten Regeln des Rondos nicht gehorchen. "Mit feurigem Schwung eröffnet das Liebesmotiv", schreibt Roeder, und die Musik bezieht sich auf die Liebe Bertrans zu Helena.. Es folgt eine Behandlung der Musik in Helenas Gebet im 3. Aufzug, wonach das Kriegsmotiv des alten Königs aus der Mitte des 2. Aufzugs ertönt. Dieser Kampfansage steht die Kampfweise der Marietta im 3. Aufzug entgegen. Die Bearbeitung dieser beiden letztgenannten Motive ergibt einen wuchtigen Orchesterklang, und im Laufe der Entwicklung kommen überraschende harmonische Wendungen und kontrapunktische Kombinatorik vor, bis die Musik, langsam werdend, die Versöhnungsmelodik zwischen Heinrich II. und Bertran erreicht, d.h. bei einem aus dem textlichen Zitat Uhlands Ballade Bertran de Born im 3. Aufzug, "Nimm die Hand, Du Freund des Toten", welches eine Ges-durGestalt der C-moll Weise in König Heinrichs Anklage gegen Bertran ist. Es ist dieses Motiv, das gegen Ende der Ouvertüre hervortritt und einen verklärenden, aber kräftigen Schluß der Konzertfassung der Ouvertüre mit sich bringt.
Dieser Erstdruck der Ouvertüre und Stimmen zur Oper Bertran der Born von Felix Draeseke wird durch finanzielle Unterstützung der Mitglieder der International Draeseke Society / North America (Internationalen Draeseke Gesellschaft / Nordamerika) ermöglicht.
©Alan Krueck 2004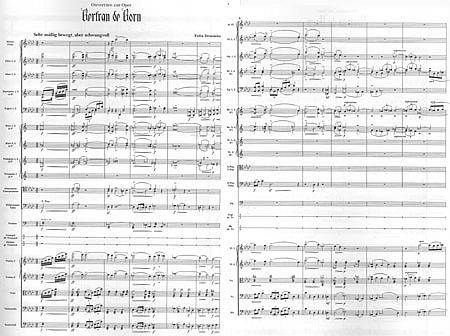 The Orchestral Score for Overture to the Opera Bertran de Born is now available from IDG and from Edition Nordstern.