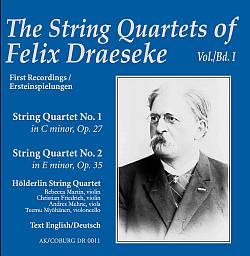 The String Quartet nr. 1 in c, op 27 was not the composer's first effort in the genre, as one in the same key had been written during his student days in Leipzig. It is, on the other hand, the first chamber work of the composer's maturity. The first movement (Allegro risoluto) is based on two themes: an energetic C minor motive heart at the outset and an undulating sweetly lyrical melody in E flat. The slow movement (Largo, A flat major) is an example of unendlische Melodie, an immense outpouring of song which makes the movement perhaps the heart of the quartet. The Menuett (Allegro moderato, C minor) is a somewhat gruff dance interrupted by an Intermezzo in B flat an then repeated. The finale (Presto con fuoco, C major) is a whirlwind; essentially a rondo in form it has an underlying impulse which gives it a claim to be placed among the most breathtaking movements in quartet literature.
Also recently released are recordings of Draeseke's third, and final, quartet coupled with the composer's Suite for Two Violins, op. 86 (DR0012). With these releases, all of Draeseke's chamber works are now available on CD.
The Hölderlin String Quartet was formed in 2005 and presents performances of the string quartet repertoire at the highest level. Each of the individual members enjoys a broadly diverse musical knowledge and innumerable instances as soloist and as members of other chamber music and orchestral groups. Finely delineated and nuanced interpretations delivered with infectious energy characterize the playing of these young artists. The quartet has played throughout Germany including concert performances of the Draeseke quartets.
More about this music and and the artists: