Our third recording of music by Joachim Raff using new editions of each score, specially prepared for these recordings by the publisher of definitive Raff scores, Edition Nordstern.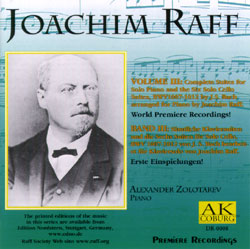 This is Volume 3 of a four CD project that presents the first integral recordings of Raff's seven Suites for Piano and of his transcriptions of Bach's Six Cello Suites.First Recordings [DDD 78:51]
"Recordings of exceptional interest", Piano Magazine (2005)
Read a review at raff.org.
Listen to portions of this recording in mp3

format:
Suite nr 1: Mazurka
Suite nr 3: Minuetto
See an image of the compact disc with track listings.