Our second recording of music by Joachim Raff. This is Volume 2 of a four CD project that presents the first integral recordings of Raff's seven Suites for Piano and of his transcriptions of Bach's Six Cello Suites. First Recordings - Released April 2004. [DDD 77:10]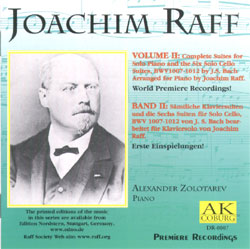 Read a review at raff.org.
"Recordings of exceptional interest", Piano Magazine (2005)
Listen to portions of this recording in mp3 format:
Suite nr 6: Gigue
Suite nr 7: Rigaudon
Suite nr 7: Tambourin
Bach/Raff:Suite nr 2: Allemande
See an image of the compact disc with track listings.